Wholesale Customers
Restaurants & Retail Establishments
2 Great Brands.
One Great Smokehouse.
SeaBear Smokehouse makes available a limited number of our SeaBear and Gerard & Dominique brand items to retailers and restaurants on a wholesale basis. If you are a retailer or restauranteur, and are interested in learning more about potentially carrying our products in your establishment, please contact us.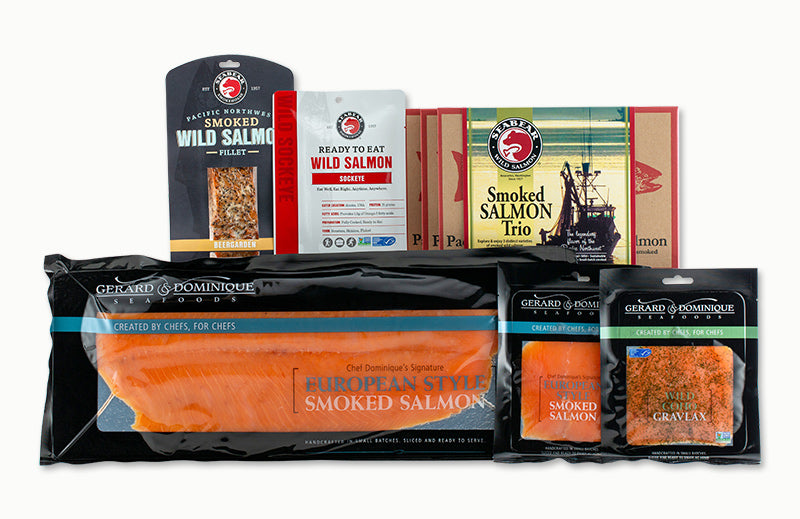 Connect With Our Wholesale Sales Team
DOWNLOAD A CATALOG
Restaurants, Hotels, Country Clubs, Airlines & Other Food Service
Since its beginning in 1990, Gerard & Dominique smoked salmon has been featured on the menus of many premier restaurants, hotels, country clubs and airline First Class cabins. Gerard & Dominique joined the SeaBear family in 2008, and we have been proud to often work directly with chefs to build programs that best meet their specific menu needs. It is this approach which has made ours the smoked salmon truly Created By Chefs, For Chefs. We can ship directly to your establishment or work through a distributor.
Retailers & Specialty Markets
We are proud to offer key items from both our SeaBear and Gerard & Dominique brands at quality grocery stores, seafood markets, gourmet shops and specialty retailers across the country. If you are a retailer interested in potentially carrying our products - either packaged or in your fresh deli case - please give us a call! 800.454.0023