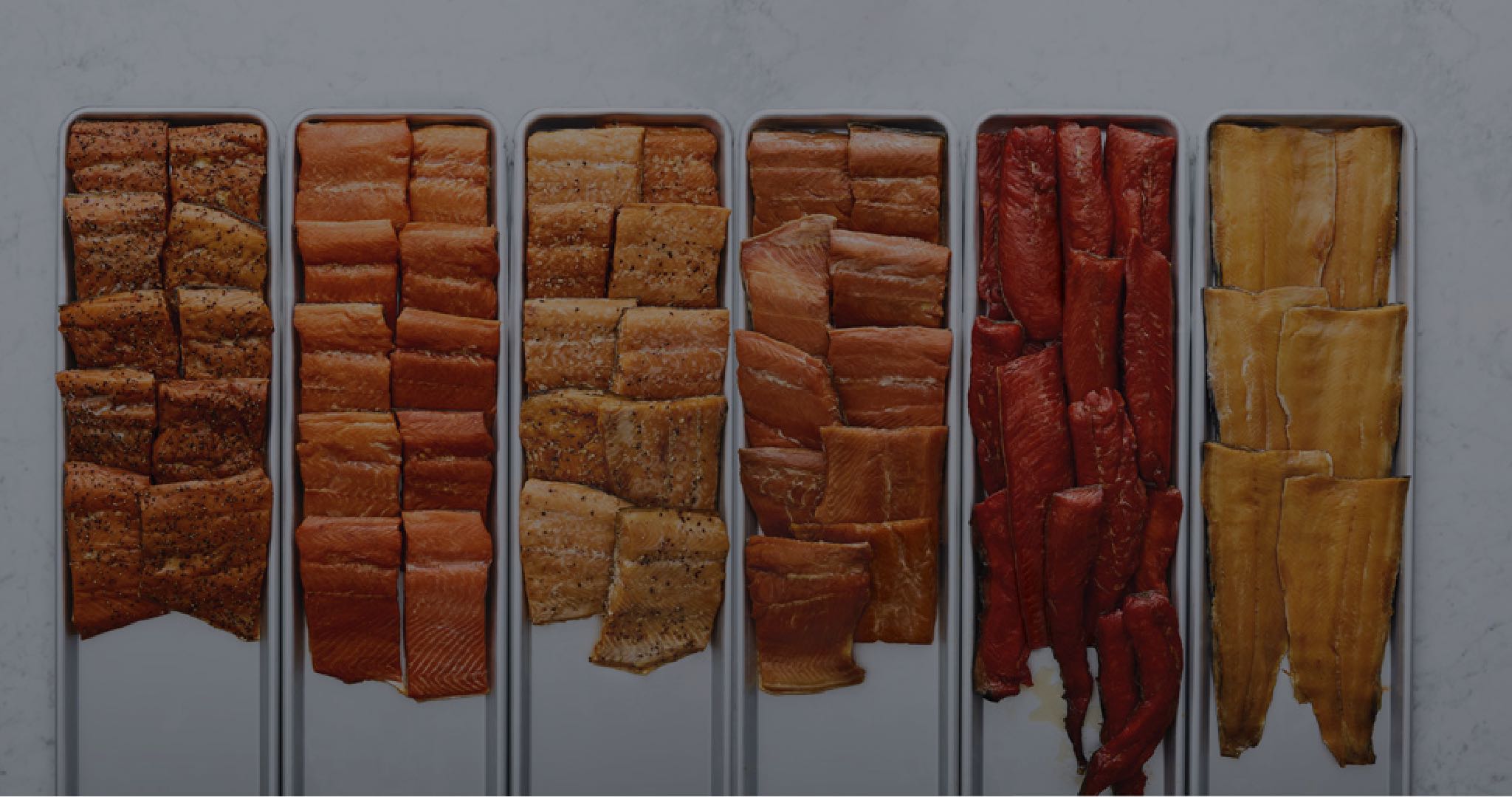 Press & Recognitions
In the 60+ years that SeaBear has been in business, both our company and our products have been featured in many magazines and publications. Here's a selection of recent, and not-so-recent, articles.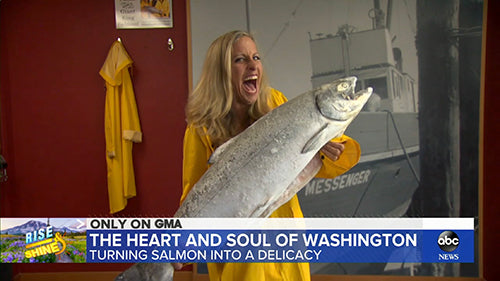 SeaBear Featured on ABC's Good Morning America
SeaBear Smokehouse represents Washington State's bounceback from the pandemic in GMA's "Rise and Shine" segment. Click below and see SeaBear at 2:23. Plus, in-studio hosts sample Smokehouse favorites!
WATCH THE CLIP
Seattle's King5 News Visits SeaBear Smokehouse

"Salmon tastes great on its own, but when it's smoked, the flavor reaches another level. That's one of the reasons Anacortes-based SeaBear Smokehouse has been making seafood lovers happy for 65 years..."

Read More

Get these pre-made appetizers on the hook for parties or camping

"It can take quite a while to get a smoked sockeye just right, or you could tear open a package and have it on a cracker in seconds..."

Read More

Ready to Eat Foods the Whole Family Will Love

Momtastic includes our Ready to Eat Seafood pouches among choices for healthy family foods.

Read More

An Interview with SeaBear President Mike Mondello

Mike Mondello, President & CEO of SeaBear, reveals to DeliveryRank the history of this once humble backyard Smokehouse to a now thriving and prestigious business and provider of unforgettable seafood.

Read More

Mashed.com selects Waterbrook Winemaker's Smoked Salmon for 14 Best Gifts for Foodies

The best thing about SeaBear Smokehouse's Waterbrook Winemaker's Smoked Salmon is that it is a fine cut of fish. The second best thing about it is the price. A fillet of this fancy smoked salmon costs less than $15, yet the recipient will feel like they are getting a luxury gift. Which they are..."

Read More

Smoked Salmon Trio Selected for Parenting Healthy's 2021 Holiday Gift Guide

See Parenting Healthy's full Holiday Gift Guide for Men, Women, Teens, Kids and Pets.

Read More

Smoked Salmon Lox Breakfast for Yom Kippur

Forbes features SeaBear's Smoked Salmon Lox breakfast as a delicious way to break Yom Kippur fast. "This is what we're all craving, and what is synonymous with the break the fast meal...traditional Jewish breakfast/brunch foods!"

Read More

The Open Mind, Hosted by Alexander Heffner

SeaBear Smokehouse CEO Mike Mondello discusses the impact of the pandemic on American seafood and stewardship of the oceans.

LISTEN TO THE PODCAST

Seattle Met Magazine

SeaBear's Smokehouse Slider Kit featured in Seattle Met Magazine

Read More

Seattle's Q13 Fox Fillets a Fish

Seattle's Q13 Fox visits the Smokehouse in Anacortes! View the Fillet Room segment here

Watch Video

Ezvid Wiki Names SeaBear Smoked Salmon Trio #1 Smoked Salmon for 2017

In a review of ten smoked salmon varieties from a number of companies, SeaBear's Smoked Salmon Trio, a perfect gift for the smoked salmon lover, made the top of the list.

Read More

Washington Grown features SeaBear Smoked Salmon

Watch Video

PR Web - May 24, 2016

SeaBear Smokehouse –- marketer of the SeaBear and Gerard & Dominique brands of artisan smoked salmon --- has been awarded Level 2 SQF Food Safety Certification by the Safe Quality Food Institute, a global standard for rigorous food safety management systems. Safe Quality Food certification (SQF), which is administered by the Food Marketing Institute and recognized by the Global Food Safety Initiative (GFSI), is a standard of excellence increasingly looked for by customers in the food retailing and food service industries.

"We are thrilled to now be an SQF certified plant, and proud to be part of their One World, One Standard certification." exclaims Mike Mondello, SeaBear president. "This SQF certification gives our customers the confidence that we, as a small artisan smokehouse, have met the highest global standards for food safety."

In addition to this Safe Quality Food certification, a number of SeaBear Company products have recently been verified by the NON-GMO Project.

Read More

UpstateRamblings.com features SeaBear's Ready-to-Eat Wild Salmon - April 24, 2012

Read More

SeaBear acquires Gerard & Dominique Seafood: Food Business Review - April 2nd 2008

SeaBear Company, a national purveyor of smoked salmon and other specialty seafood, has acquired 100% of GD Seafoods, which does business under the Gerard & Dominique brand. Terms of the transaction were not disclosed. The acquiring firm believes that with this acquisition, the combined company enjoys the leverage of a broad line of high quality products, two respected consumer brands, and strength across multiple distribution channels, positioning it for significant growth in the high-end niche of the seafood business. Mike Mondello, president and CEO of SeaBear, said: "Both the SeaBear and Gerard & Dominique brands are built on premium product quality, specialty niche marketing, and a deep passion for customer service. This strong alignment of our core beliefs is what got us both interested in the potential of joining forces." Dominique Place, president of Gerard & Dominique, said: "We are thrilled to be joining the SeaBear team, as their depth in sales and marketing will allow us to serve our existing customers even better, and help us expand to reach new markets as well." Mr Place and his wife ChouChou, who together were sole owners of Gerard & Dominique, will remain with the company, as president and vice president of sales, respectively.

Anacortes American - November 01, 2007

SeaBear commemorated 50th anniversary with dinner party - by Kimberly Jacobson

SeaBear held a party unlike any other in the continental United States to celebrate 50 years in business in September. With customers and friends from coast to coast, SeaBear brought the party to them by creating the world's largest dinner party. SeaBear, a nationally recognized purveyor of premier seafood, celebrated its 50th birthday with a simultaneous schedule of 50 dinner celebrations from coast to coast — spanning over thousands of miles, three time zones and a multitude of culinary and entertaining traditions. Fifty friends of SeaBear from across the country were chosen to host a dinner party for their family and friends. Mike Mondello, SeaBear CEO, hosted the event from the party of more than 150 employees and friends at company headquarters in Anacortes. To kick off the coast-to-coast celebration, Mondello connected with the parties all across the country via a Web cast where he was able to simultaneously toast everyone.

Skagit Valley Herald - September 18, 2007

Taste for salmon fuels company's growth - by Scott Terrell

Read More

Prevention Magazine - December 2004

"Enjoy the 'oohs' and 'aahs' when you serve SeaBear's smoked wild salmon from the Pacific Northwest. The luscious Appetizer Sampler Collection includes a half-pound each of BeerGarden, Copper River, and Nova Style smoked salmon, plus salmon-and-spread roll ups, all rich in Omega-3 fats. It's shipped on ice; thaw overnight and arrange the fish around a bowl of the sweet onion mustard that's provided."

The Star-Ledger - July 9, 2003

"First there was tuna in vacuum packs that needed no refrigeration until they were opened. Now, from SeaBear Smokehouse in Anacortes, Washington, comes Raging River Brand wild salmon in its own little pouch, 6 ounces of sockeye salmon from Alaska with just a touch of sea salt to add interest. Turn it into a salad or use it as a sandwich ingredient for the kids. Anything's possible."

Puget Sound Business Journal (Seattle) - August 19, 2002

SeaBear catches gourmet market with latest product - Steve Wilhelm - Staff Writer

Mike Mondello wants to give SeaBear Smokehouse Inc.'s salmon the cachet of a refined, upscale product sought out by epicures who are also health- and environment-conscious. Key to this ambition is Anacortes-based SeaBear's newest product, called "Healthy Hearts wild salmon dinner fillets" — a package of eight six-ounce frozen salmon fillets, packed in dry ice with four sauces, shipped directly to consumers' homes. It's targeted directly at homemakers who want to impress guests, or can afford to spend freely on food. "In four months it's become the most successful new product," said president and CEO Mondello. "It's totally high end." With such innovations, SeaBear, long known for packaging expensive salmon gift boxes, is expanding into the mail-order gourmet market.

Since arriving at the company in 1996, Mondello has been recasting his company with new products and new target market. To do this Mondello is capitalizing on increasing public awareness of an array of seafood-related environmental and health issues. These include the sustainability of wild seafood resources, the importance of Omega-3 fatty acids for heart health, and increasing doubts about the environmental impacts of farmed salmon, as well as the health implications of the antibiotics and dyes that salmon farmers use. At the equivalent of $20 a pound, the Healthy Hearts fillets don't find much of a market here in the salmon-rich Northwest. Instead, the company does about 95 percent of its direct-mail marketing business in tony neighborhoods in California, Texas, New York, Florida and Chicago, Mondello said. "We don't compete on price,"
Pacific Northwest Back to School Lunch Ideas

"Get some cheese from a Yakima Valley business like Tieton Farm & Creamery and SeaBear Pacific Northwest smoked salmon from the grocery. Toss in some fruit and your child can have their own charcuterie spread for school lunch..."

Read More

Spruce Eats Chooses SeaBear Croissants as "Best for Sandwiches" Croissant

"While it might seem just a little odd that a company that sells a lot of seafood products would also sell croissants, it makes sense..."

Read More

Ready to Eat pouches ideal for Texas #VanLife

Texas Lifestyle & Travel Magazine chooses SeaBear Ready to Eat pouches as "an easy, filling, and delicious lunch while camping, backpacking, or living in a van".

Read More

Welcome to the Smokehouse Collection featured in Daily Mom

Ready Daily Mom's "25 Luscious Fall Foods You're Sure to Adore" article, which features SeaBear's Welcome to the Smokehouse Collection.

Read More

Washington's 1889 Magazine Loves SeaBear's Crab Roll Kit

1889 says, "Craving crab rolls but can't get to the seaside? You can get all the ingredients for a SeaBear Crab Roll delivered to your door. The kit includes more than a half-pound of Dungeness and Alaskan King Crab Dip, with chunks of king crab, eight potato slider rolls and garlic and sea salt butter from Golden Glen Creamery in Bow."

Shop Crab Roll

Thrillist's 7 Must-Try Mac & Cheese

Thrillist features SeaBear's Smoked Salmon Mac & Cheese in their article "7 Must-Try Mac & Cheese Spots Around the Country That Ship Everywhere"

Read More

On the Menu Podcast

Mike Mondello talks with On The Menu Podcast's Ann & Peter Haigh: salmon as the hero; shopping direct from the Smokehouse

Read More

Seattle's KOMO 4 News

SeaBear's Smokehouse Tasting Flight featured on Seattle's KOMO 4 News. Tasting flight to be featured at Made in Washington's reimagined Pike Place Market location.

Watch Video

Seattle's Q13 Fox & Treat the Troops

Seattle's Q13 Fox visits the Smokehouse in Anacortes! View the Treat the Troops segment here

Watch Video

SeaBear featured in "How to Hike the Appalachian Trail" book - January 6, 2017

Interested in hiking the Appalachian Trail? This informative book by Christopher Gage includes SeaBear's Ready-to-Eat Wild Salmon as a must-have for the journey.

Learn More

Whole Foods Magazine notes SeaBear salmon as a safe choice for sustainability - July 12, 2016

Read More

SeaBear Company announces its Gerard & Dominique line of wild salmon lox and its SeaBear brand Ready-to-Eat Wild Salmon are now verified by the Non-GMO Project. - January 27, 2016

Read More

MomCentral.com says SeaBear makes nutrition simple - November 2, 2011

Read More

Rachael Ray "Everyday" - December 2007

For the Sunday Bruncher Give friends "lox" of flavor - and some tasty Omega-3s: Sockeye Smoked Salmon is great for brunch (bagels and cream cheese not included).

Skagit Valley Herald - September 27, 2007

SeaBear creates niche by selling seafood, celebrating relationships - by Kimberly Jacobson

Read More

The Detroit News - June 21, 2007

One Good Salmon - by Kate Lawson, Detroit News Food Writer

Alaska's Copper River is celebrated for its yearly wild salmon run, and right now SeaBear, a leading wild salmon purveyor, is shipping fresh Copper River sockeye during its "Straight from the River" event. This wonderful salmon needs very little to make it spectacular. In fact, SeaBear includes a free packet of sea salt and cracked pepper, along with simple instructions to roast the fillets slowly at 250 degrees for about 25 minutes. The results are amazing. Price for eight dinner-sized sockeye fillets is $74.99 (plus shipping), and there's a wide variety of other salmon choices such as whole fillets, burgers and steaks, as well as smoked.

Coastal Living - May 2005

Reap the rewards of the world's most famous salmon run by reserving SeaBear's 2005 Straight from the River Wild Copper River Sockeye Salmon. During the week of June 13th, eight 6-ounce fillets arrive fresh at your door directly from the pristine waters of Alaska's renowned Copper River.

Muscle & Fitness - August 2004

All the bad press recently about dangerous levels of mercury in tuna and toxic chemicals in farmed salmon is enough to make anyone a fish-phobe. Sadly, avoiding fish – particularly meaty ones like salmon – can affect your health. Salmon is one of the best sources of the omega-3 essential fatty acids, which the body needs for mental function, cardiovascular health and to fight inflammation. Fortunately, SeaBear offers frozen wild salmon fillets with accompanying marinades and sauces, as well as portable single-serving pouches of cooked, ready-to-eat salmon. In the pouches, you can choose either sockeye, which has a more robust flavor, or pink, with a milder flavor. The 3.5-ounce packet of sockeye provides 22 grams of protein and 8 g fat, including 1,100 mg of those omega-3 fatty acids. The pink salmon has 34 g protein, 6 g fat and 1,700 mg omegas-3s. The price, about $6 a packet, might be higher than what you can get at your supermarket's fish counter, but at least you'll know you're buying wild Alaska salmon.

Chicago Sun-Times - March 3, 2004

"Every now and then we head off the regular path for this column and find gems like this product from SeaBear. If you are looking for an easy lunch that's good for you and tastes great, order these packets. This probably was the best lunch I'd had at my desk in months. It couldn't have been easier. Each pack hold fully cooked boneless/skinless pieces of wild salmon with a bit of sea salt. The company offers a booklet with ideas on how to prepare the salmon packets. I just ripped it open, piled the wild salmon onto a baguette and added the lettuce leaves I'd packaged separately. Every bite was great and I would have been sad I'd come to the end of my sandwich if I hadn't been so full. Plus I had the satisfaction of eating something so healthy. The American Heart Associations recommends people eat two servings of omega-3 rich fatty acids (such as SeaBear salmon). There have been concerns in recent months concerning farmed salmon, but this is wild salmon that hold none of those worries. I'm planning to order more because if I'm stuck eating lunch at my desk, I figure I should at least have something I enjoy." – Sue Ontiveros

Natural Health - May/June 2003

How to Shop for Heart-Healthy Fish

Boosting your Omega-3 intake is easy when you choose salmon. This popular fish tastes terrific no matter how you prepare it - baked, broiled, grilled, poached, hot, cold, in salads, or in burgers ... Wild-caught Pacific salmon is a great choice. Alaskan salmon earns particularly high marks for your health because they come from well-managed fisheries with clean waters. If you can't locate wild salmon in your area, you can mail-order it frozen from SeaBear Salmon (800-645-3474; seabear.com). Most canned salmon is wild; cans labeled red salmon contain sockeye salmon, which has a more robust flavor than pink salmon, the other canned variety
10 Incredible Foodie Father's Day Gifts for the Dad Who Loves to Cook—and Eat

Sweety High recommends SeaBear's Ready for the Grill Seasoned Fillets for the Dad who loves seafood.

Read More

Holiday Meals Made Easy with Delectable Seafood

"Whether you're going to have a simple meal with a few friends for the holiday or go all out for the whole family, you and your loved ones deserve a meal that's mouth-wateringly delicious..."

Read More

Valentine's Day Gift Guide: The Best Edible Gifts You Can Ship (That Aren't Chocolate)

"These Alaskan King Crab legs are sweet, tender, and succulent – just like a grand love affair!  King Crab sections are that meaty area at the top of the leg, filled with the most juicy and flavorful of the crab's meat. It'll be amazing for everything from an appetizer to a beautiful crab-topped dinner salad."

Read More

Atlanta Journal Constitution - Best Things for Your Next Brunch

Atlanta Journal Constitution chose our smoked salmon lox, saying "They developed recipes to smoke salmon in the European style — dry cured with sugar, salt and a little spice, and then smoked over a combination of hardwood and fruitwood. The result is luscious, and it doesn't overwhelm with either salt or smoke."

Read More

SeaBear featured in Outvoices '5 Fabulous Fall Foodie Finds'

OutVoices features our Appetizer Sampler Collection and several fall comfort foods from the Smokehouse as a part of their foodie finds.

Read More

ABC's Good Morning America

SeaBear Smokehouse is featured in GMA's "Rise and Shine" segment, which highlights small businesses across the nation.

WATCH VIDEO

SeaBear's Smoked Salmon Chowder featured in 425 Magazine

425 Magazine highlights SeaBear's unique idea to combine our Smoked Salmon Chowder with a can of pureed pumpkin.

Read More

Seattle Kitchen with Chefs Tom Douglas and Thierry Rautureau

SeaBear's Mike Mondello featured on "Seattle Kitchen with Tom & Thierry" podcast. Chefs Tom Douglas and Thierry Rautureau, both winners of the prestigious James Beard Award, review the Puget Sound's best restaurants, share recipes based on a special weekly ingredient, and answer your burning culinary quandaries.

LISTEN TO THE PODCAST

Seattle's Q13 Fox at the Smokehouse Store

Seattle's Q13 Fox visits the Smokehouse in Anacortes! View the Smokehouse Tasting Flight segment here

Watch Video

PureWow

PureWow notes SeaBear in their Top Food Gifts Under $25 List

Read More

UrbanDaddy recommends SeaBear's Red King Crab Dip as Most Tantalizing - December 5, 2016

Read More

Sunset Magazine names Gerard & Dominique's Smoked Salmon one of the Best

Read More

Undercurrent News - December 3, 2015

Smoked salmon company SeaBear Wild Salmon has donated almost 1,000 pouches of its ready-to-eat salmon to active duty troops and military units as part of its ongoing Treat the Troops program, the company said in a release.

SeaBear began Treat the Troops, which donates one pouch of salmon for every pouch purchased by a customer, in 2013, and has since sent over 3,200 pouches.

"We appreciate that members of our country's Armed Services are often serving on our behalf in some pretty harsh conditions," said CEO and president Mike Mondello.

"These brave individuals will be able to enjoy a wonderful meal of Wild Salmon from the Pacific Northwest no matter where they're at – and those who have received our salmon have been so appreciative. Our customers have embraced this program, with donations nearly doubling since last year."

Read More

Puget Sound Business Journal (Seattle) - April 18, 2008

How a sampling of scallops helped seal an acquisition - by Eric Engleman Staff Writer

The deal: SeaBear Co., of Anacortes, acquires rival smoked-seafood company Gerard & Dominique Seafood, of Woodinville. The parties: Mike Mondello, SeaBear president and CEO, and Dominique Place, co-founder of Gerard & Dominique. When Mike Mondello traveled to Woodinville last fall to discuss acquiring Gerard & Dominique Seafood, a rival in the smoked salmon business, his strongest impression came after the meeting. Dominique Place, the owner of Gerard & Dominique, sent Mondello home with a selection of fine food samples, including smoked scallops. "Dominique said, 'When you go home, just toss them in a little olive oil and heat them up,'" Mondello recalled. "I was blown away. I remember telling my wife, 'Oh my God, I hope this deal goes through.'" Those smoked scallops oiled a remarkably smooth courtship that ended with Mondello's company, SeaBear Co., acquiring Gerard & Dominique for an undisclosed price. The deal closed on April 1.

Mondello and Place are a bit of an odd couple. Mondello is a brash New York native. Place, who grew up in France, has a European sensibility and speaks with a heavy French accent. But a variety of factors pushed them together. Salmon prices are rising sharply, creating incentives for consolidation. At the same time, Dominique and his wife, Chouchou, were looking for an "exit door" for their retirement. None of their three adult children was interested in taking over the family business. Place got the ball rolling last spring, asking an attorney, Joe Brotherton, to reach out to possible buyers. Brotherton arranged to meet Mondello at the Washington Athletic Club, where the two are members. After a workout, they went upstairs and grabbed coffee to talk about Gerard & Dominique and whether SeaBear might be interested in acquiring the company. Mondello met a number of times with Brotherton and the Places over the next several months. He toured Dominique & Gerard's 10,000-square-foot Woodinville facility. The discussions got increasingly serious, and by February of this year, the two sides signed a letter of intent. On the final weekend before the deal closed, Mondello, who was in Phoenix celebrating his 50th birthday with a bunch of childhood friends from Long Island, kept a vigilant eye on his BlackBerry. He stepped away several times to take phone calls or answer e-mails, at the risk of razzing by his buddies, as the final details got ironed out. The acquisition greatly expands SeaBear's sales channels. The company specializes in online and catalog sales of smoked salmon gift boxes and other seafood products such as halibut, crab and prawns. The company also owns the Made in Washington retail gift stores. Gerard & Dominique does a lot of European-style or nova-style smoked salmon -- the silky, perishable variety -- and sells to supermarkets, hotels and restaurants. Its clients include the Fairmont Olympic Hotel, in Seattle, and the Morton's of Chicago restaurant chain. Salmon prices have increased sharply in recent years, which was clearly a factor in the two companies' calculations. Mondello said combining the two companies creates efficiencies with salmon and other seafood products. "Bringing the two product lines together mitigates some of the price pressure of salmon going up," Mondello said.

For Dominique and Chouchou, the buyout marks the end of an era. Dominique came to Seattle from France 33 years ago as a young chef, and worked in the local restaurant industry before starting Gerard & Dominique in 1990 with another restaurateur, Gerard Parrat. (Place bought out Parrat's share of the business in 1998.) Place said he was "overwhelmed" for several days after signing the papers with SeaBear. He and Chouchou had built Gerard & Dominique from the ground up. Dominique even designed their first smoker, or as he pronounces it in his endearing French way, a "smok-eur." Since the acquisition, Mondello drove out to Woodinville to talk to Gerard & Dominique's staff, and the Places came out to SeaBear's plant, in Anacortes, to meet and greet the staff there. Combined, the two companies have nearly 100 employees. Dominique and Chouchou will continue running G&D as a unit of SeaBear. No layoffs are planned, Mondello said.

Natural Health - March 2003 - in the "Consider This" section

SeaBear Healthy Hearts Wild Salmon Dinner Club

This sampler includes eight 6-ounce fillets of Sockeye, King, Coho, and Keta salmon (two of each kind), four complementary sauces, and a booklet on healthy eating from the American Heart Association. The omega-3-rich fish are wild-caught in Alaska and shipped frozen.
Awards & Recognition
Best in Meat: Washington

Cooking Light Magazine's 2011 Taste Test Awards

Our Gerard & Dominique brand smoked scallops have been recognized within the Artisanal Category. Thanks, Cooking Light, we appreciate it!

Order of Agricultural Merit

Bestowed by the French Republic

Chef Dominique Place received a very special recognition for his lifetime of culinary excellence. As recipient of this esteemed and historic award Mr. Place is officially recognized as a Knight in the Order of Agriculture Merit.
Alaska Symphony of Seafood 2009

Third Place in Food Service for Gerard & Dominique's Smoked Scallops

Third Place in Smoked Products for Gerard & Dominique's Smoked Salmon Parfait

Norm Thompson Outfitters 2002

Merchandising Vendor of the Year

Alaska Symphony of Seafood 1999

People's Choice - Smokehouse Pizza
MultiChannel Merchants 2007

Gold Award Winner Small Web Merchant (Web)

Made in Washington Stores 2002

Award for Product of the Year - Smoked Salmon Trio

Alaska Symphony of Seafood 1998

2nd place in Food Service for BeerGarden Smoked Salmon

Best Overall in Gift & Specialty Products for Smokehouse Chili (Spicy White Bean Soup)
Business & Professional Women 2007

Norm Thompson Outfitters 2000

American Corporate Identity 1990

Award of Excellence to Speciality Seafoods

Package Design

Logo Design